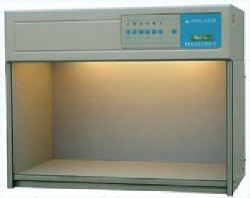 Our company has a COLOR ASSESSMENT CABINET ( BZGY908)
It's a manually sequence lighting function, WE can make any combination from existing lights by easily press corresponding button of lights.
Color Assessment Cabinets (CAC) creates the perfect alternative to natural daylight. With the use of nine phosphorus and calculated to the CIE 51 standard, the cabinet produces the best fluorescent D65 daylight simulator with the highest Color Rendering Index (CRI) available to the color viewing world.
The CAC range had been developed for the visual assessment of color in accordance with the British Standard 950 Part 1 directives and International Standards