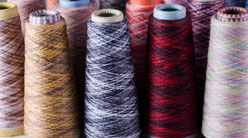 ELSHEHAB MERDYE COMPANY have pleasure to provide the space dyed threads which from 100% Egyptian cotton (Giza 86 / Giza 88 ) with high quality and appealing shades which can be mercerized or non mercerized
Cotton Space dyeing is a technique used to give the cotton yarns a unique, multi-colored effect. While a typical skein of yarn is the same color throughout, a skein of space dyed cotton yarn is two or more different colors that typically repeat themselves throughout the length of the yarn. Space dyed yarn is sometimes referred to as dip dyed yarn.
Cotton Space dyed yarn can be dyed in either coordinating or contrasting shades. Space dyeing yarn in coordinating colors, such as various neutral tones or assorted shades of blue, provides a subtle yet sophisticated look. Space dyed yarn in contrasting shades, such as yarn that is purple, red, and blue, offers a funkier feel.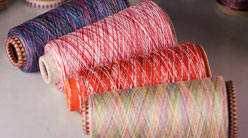 Cotton Spaced dyed yarn is most commonly used for knitting and crocheting. When space dyed yarn is made to make a knitted or crocheted item, the resulting project features uneven horizontal stripes that produce a collage-like effect. However, the size of the stripes in the finished piece depends on what size of yarn is used. As you might expect, thicker yarn produces thicker stripes.